Applications
Listed to the left are some examples of Synapx technology in use.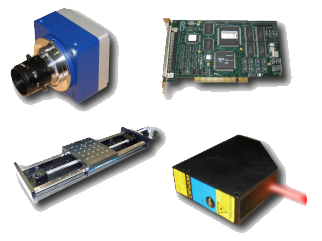 Automation Manager
Automation Manager is a part inspection software that uses cameras, lasers, probes and SPC readout. Automation Manager integrates machine vision, gaging, motion control, thermal imaging and multimedia presentation into a powerful but easy to configure software package.
"If a camera can see it, or a probe can gage it, then we can inspect it."
For more information please visit the Automation Manager website.
Applications - Go to top
EzMeasure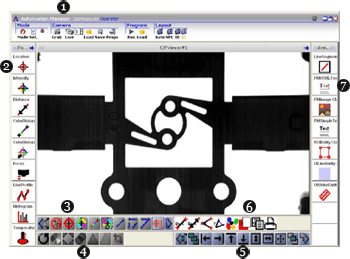 EzMeasure is a graphical software package that allows you to measure, annotate, and analyze your images with just a few clicks. Create writtenreports that include the raw data, plus the images involved. These reports can be printed or emailed.
EzMeasure was created with an intuitive interface and contains tools for image capture, viewing, geometry/metrology, annotation, image processing and manipulation, as well as reporting tools.
For more information please visit the EzMeasure website.
Go to top
Time Line / Stardate / Bible Viewer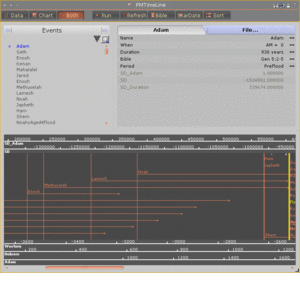 Time Line
Time Line is a interactive in-depth timeline application that can be customized by the user. The default dataset contains a Biblical Timeline allowing studying of important Biblical events.
Stardate
Universal Calender. Includes Gregorian, Julian, Hebrew Calendars and more. Star Date is the Julian day zeroed at Christs Birth Midnight. The user can also zero this to any calendar day.
Bible:
This is an online Bible supporting muliple translations. When run with Time Line it displays the Bible reference for each timeline event.
For more information please visit the
0000-0-0.com website.
Applications - Go to top
Presentation Manager - Wosrhip Software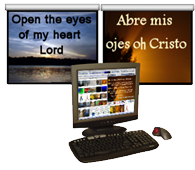 Presenation Manager is a presentation software designed specifically for church worship. With over a 1,000 songs and more than 50 Bible translations available in a fully customizable database, worship integration is seemless. Key features include:
- Included Song and Bible database.
- Text over video.
- Play DVD segments and flash media files.
- Show different presentations on two projectors.
- Designed so spontaneous changes don't disrupt worship.

If your church has outgrown PowerPoint take your worship presentations to the next level with Presentation Manager Pro. Presentation Manager is now built on Synapx code to work on all operating systems seemlessly with one common user interface.
For more information please visit the Presentation Manager website.
Applications - Go to top